Local Events
The BIG Mercy for Mankind Thank Youkeyboard_arrow_down
Presented proudly by the Ahmadiyya Muslim Community (AMC) Guildford Branch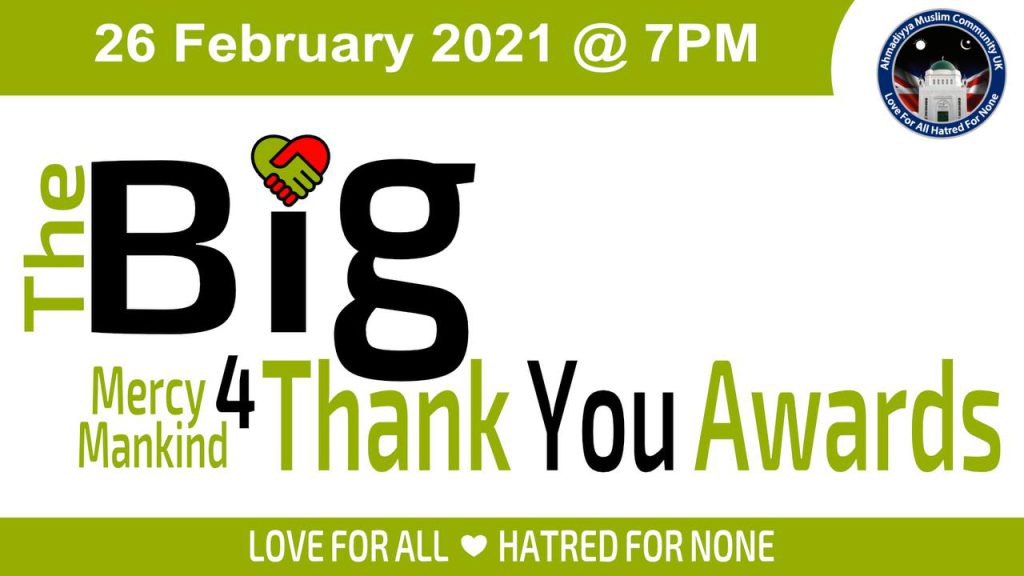 This event is a thank you to those individuals or establishments that have been going 'above and beyond' during the current COVID-19 pandemic to support our local community – Our Local Heroes.
Many have suffered during these unprecedented times – whether financially, emotionally, or health-wise, yet there are equally so many who have stepped-up and expressed a selfless desire to help those in need. We want to give you a platform to say Thank You to these kind-hearted and wonderful people.
You might want to thank…
Your neighbour who assisted with your shopping during isolation
The local foodbank charity that has been supporting your local area
Your husband or wife for helping you during a difficult time
Your school or a specific teacher for their efforts during lockdown
…Whatever your reason, and whoever it is for, we want you to submit your nomination for The Big Mercy for Mankind Thank You and we will give out certificates of thanks, as well as entering your nominee for consideration of our Awards.
We will be giving out two awards – one for an individual and one for a group/organisation. The award winners will be announced at our Live event on 26th February on YouTube.
Why "Mercy for Mankind"?
The founder of our faith – The Prophet Muhammad (peace be upon him) is referred to in The Holy Quran as a "Mercy for Mankind" (Ch. 21 – Al-Anbiya V.108). The Holy Prophet Muhammad (peace be upon him) is reported to have said:
"One who is not thankful for a little is not thankful for a lot and one who is not grateful to people is not grateful to God".
So, we as Muslims want to recognise and give thanks to those wonderful people within our local community that have stepped up during the current pandemic situation to selflessly support others.
How to Get Involved?
We will be hosting a LIVE event on YouTube on 26th February 2021 at 7PM.
During this event, we will be highlighting some of the many exceptional nominees that have been put forward for the award and saying 'thank you' to them. We will also be announcing the winners of our awards at the end of this 1 hour broadcast.
Please submit your contact details so that we can register you for the event and keep you updated on information leading up to the event. If you want to submit a nominee, please complete the nomination form below.
All nominees will receive a certificate of thanks, whilst award winners will receive a special award, along with £100 towards their chosen local charity.
Please spread the word about this event amongst your friends and family and through social media – those that have been working to support our community during these difficult times deserve our thanks and recognition – let's all come together on the 26th February 2021 @ 7pm to say a BIG Mercy for Mankind Thank You!